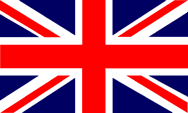 Some accordions have an interesting story to them. This story being told by Steve Bridge, Rapid City, South Dakota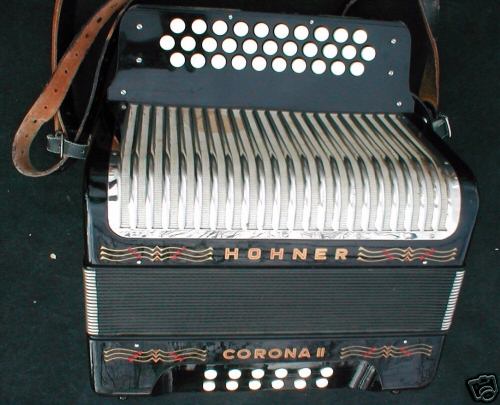 I recently went to an Estate Sale that had an accordion that caught my eye, its beauty stopping me in my tracks. While I was admiring its visual effect of Black Chrome, a woman asked me if I played. When I replied no, she picked it up, slipped on the straps and proceeded to to go over each and every one of the buttons testing them. Satisfied, she played a little bit of a waltz and then a longer, louder, bawdier bit of a polka that stopped the auction sale for a moment.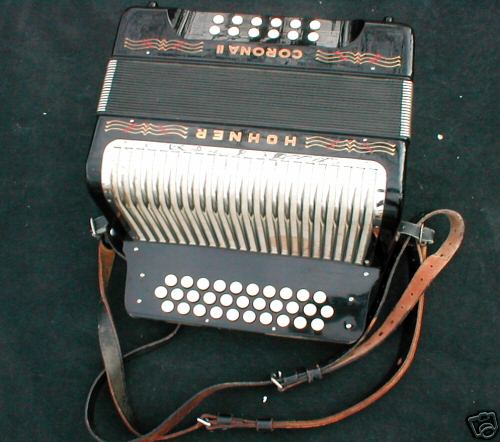 Everyone turned to listen, even the auctioneers. Mesmerised by the full, rich sound, I was sold. After I bought it, a fifty-something man walked up to me and stuck his hand out. He said: "I want to thank you for paying that much for my DadŐs Accordion". I must have had a puzzled look on my face as he proceeded to tell me how he and his siblings had debated whether or not to sell it at auction for fear of it selling too cheap. So I took the opportunity and asked the man; would you tell me about your Dad´s Accordion? He told how this Accordion was a family legend with many happy memories, but none of the family plays anymore, the last being gone a few years now. They decided to sell rather than let it languish.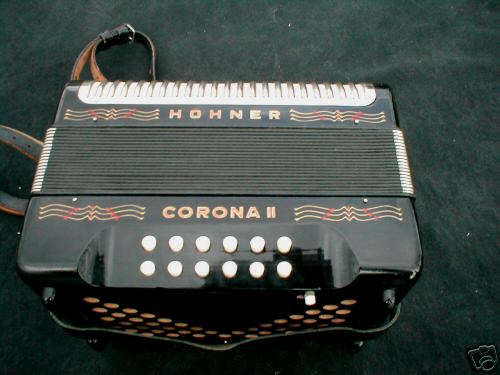 This Corona II played at many special occasions on frozen nights in North/South Dakota kitchens and living rooms. The winter country air is cold, and the hearts are warm. Company is too rare in these less densely populated areas and an accordion is easily portable and immensely enjoyed. When the former owner was in his prime, Myron Florin was playing on WNX in Yankton and the happy sounds of of accordions were much appreciated throughout the U.S.A. Now it´s time for it to find a new home and new chapter in its history. This Accordion, whether playing a Waltz, Polka, or Cajun tune, has tremendous sound. It makes one want to move around: an instant party. I don´t know how to play at all, but the sounds I get are rich, steady and strong.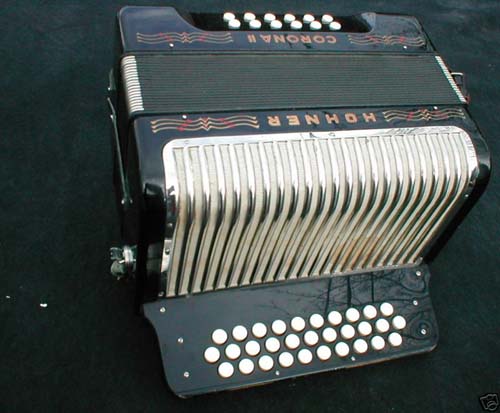 It plays a note with the slightest movement of the bellows. The finish is Excellent, Bright, and Solid with No Chips, No Scratches, and No Dents. It was always well cared for, very well cared for. The only wear is at the edge of the finger board: some finger worn paint and the wood underneath polished .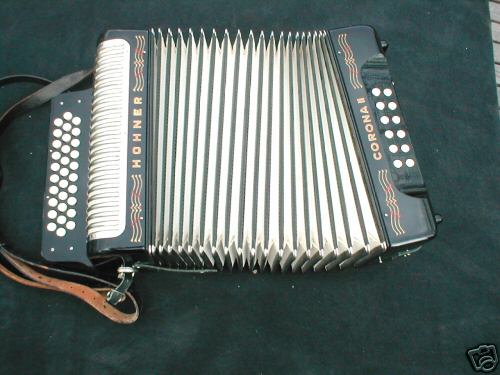 The buttons are flat on top and all work smoothly and of course make great notes. Though everything works, and works perfectly, I assume to keep it in good working order, it needs a good home where it will get the devoted care and fun it has had all these years. It has a slurp of spilled coffee that stained the cloth behind the grille. I removed the grille and took a photo showing the coffee was superficial and never touched the inside. I did not try to remove the stain as I am not an instrument technician. There is probably an accepted method to bleach the fibre, but I did not wish to fix it incorrectly.
I love the accordian... They are a happy instrument! I prefer the positive in life. I paint wild animals, but would never paint one snarling. I´m glad I can get my money back on it as it was an impulse buy, I couldn´t resist it. I am going to an outdoor auction sale today where I hope to meet up with the lady who bought the accordian´s case. She is older and the high temperature will be 16 degrees F with a wind, so I don´t know if she will attend. I have ready a 3 foot pile of clothes I am taking with me. I´m sure it will go to a good home, that was my goal in telling its story.
Hi Peter, I went to your website... pretty cool. I LIKE that Hawaiian Guitar! You're in Germany then? Sorry your friend didn't get the Accordian. I like to see my stuff go to people who will truly enjoy it or use it.
If you ever come to the US, I live near Mt. Rushmore and I can introduce you to Polka people if you would like to play some small town venues. Throughout SD, ND, and Minnesota, there are a lot of Germans and Polka lovers.
- Steve Bridge, Dec/2005
Hier finden Sie Informationen, die ich zum Thema Handharmonika zusammengestellt habe
My pages with information on the diatonic accordion